October 10th, 2022
October is National Orthodontic Health Month! During the month of October, orthodontists around the country work to promote awareness about the benefits of orthodontic treatment and the many advantages of a healthy smile. Dr. Brad Gilbert, Dr. Adam Wells and Dr. Svetlana Lekht believe that simply hiding the Halloween candy this month won't be enough if you're looking to improve your child's (or your own) smile and maintain oral health. Read on to learn how a healthy mouth begins with a straight smile.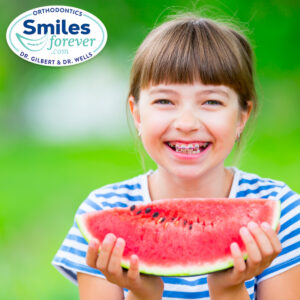 What is Orthodontic Treatment?
Orthodontic treatment creates alignment between the positioning of the teeth and jaw. Many different types of appliances can be used to correct various bite issues including braces, headgear, palatal expanders and retainers, among others. While many treatment plans will be most effective on children whose jaws are still developing, adults have plenty of orthodontic treatment options available to achieve a beautiful and healthy smile, including clear braces and removable aligners.
Why is Orthodontic Treatment Important?
For proper function of the jaws and teeth, orthodontic treatment may be a crucial part of any oral care routine. Under the care of an orthodontist, patients will gain:
An aesthetically pleasing smile.
Having a beautiful, confident smile has long-reaching effects. Numerous studies have proven that a straight smile is becoming increasingly mainstream in today's society. From school age children to adults, those with straight teeth are quite often perceived as being more successful. The impression your smile leaves can make all the difference between gaining opportunities or being passed over.
A strong and healthy bite.
The jaw functions best when it is properly positioned. Ill-positioned Jaws that are not positioned correctly may contribute to problems such as, difficulty in chewing, speech impediments, cracked or broken teeth and other dental issues.
Proper alignment of the teeth.
Properly aligned teeth fit together like puzzle pieces, working and resting together. When the upper and lower teeth don't match up, you are leaving your teeth exposed to years of extensive wear, which may lead to an increase of dental health problems down the line.
How You Can Participate in National Orthodontic Health Month
October is the perfect time to visit the orthodontist! Here are a few pointers to keep in mind:
Your child doesn't need to have lost all of his/her baby teeth before going to the orthodontist. On the contrary, going before all your child's baby teeth have been lost is advantageous. This allows for early identification of potential issues and, in some cases, more effective treatment outcomes because the jaw is still growing.
The American Academy of Orthodontics recommends that children be seen by an orthodontist by age 7. This enables the doctor to determine what issues, if any, are present. This early start allows the orthodontist to identify early warning signs to monitor, as well as tackle current issues while the jaw is still growing.
You ABSOLUTELY can visit the orthodontist as an adult! With many more options available than ever before, adults are increasingly seeking to improve the function of their jaws and bite, improve their oral health and obtain beautiful, confident smiles. Our SmilesForever Orthodontics practice treats a large percentage of adults, offering both INVISALIGN® and iTero® digital scanning. We offer many treatment options to suit your needs and strive to make treatment comfortable as well as affordable.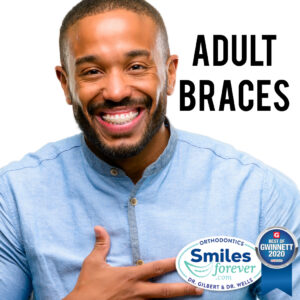 Let this October be the treat and not the trick into putting your oral health first! Take the first step toward your child's (and your own!) healthy, beautiful and confident smile by setting up a complimentary consultation with us today. You'll be glad you did!