Surviving Halloween with Braces!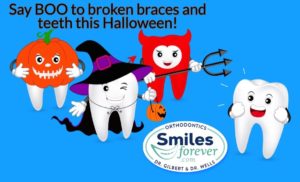 If you are the parent of someone with braces - or a kid at heart with braces yourself, you won't need to worry about taking the fun out of Halloween with our SmilesForever Orthodontics survival tips!
Dr. Brad Gilbert and Dr. Adam Wells would like all of our patients to enjoy this SPOOKTACULAR  holiday. Because really, all anyone wants to do on Halloween is dress up, watch a spooky movie or two, eat some yummy Halloween candy and most of all - HAVE FUN!!
In following our tips you'll make this a ghoulishly fun event!
Keeping Teeth & Braces Healthy
Stay away from hard, crunchy, sticky and chewy candies. Choose soft and creamy candies instead. Examples are candies without nuts, caramel and taffy. Plain M&M's and Three Muskateer's Bars are just two braces-friendly candies!
Remember to brush well after eating any candy! The sugar remaining on teeth for any length of time can cause tooth decay.
Trick or Treating With Alternative Choices to Candy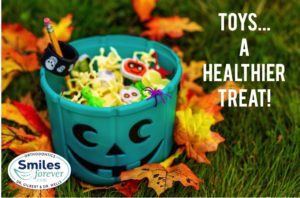 Given the choice between a fun toy or candy - consider passing up the sugar in favor of a treat that will last longer and will be more fun!
If you're planning to hand out treats in the neighborhood, have some fun alternatives on hand. Necklaces, rings, stickers, glow-in-the-dark tattoos, coloring books - these all make fantastic treats and are super affordable at the dollar store. You'll soon have a line of little ninja's and ballerina's lining up to knock on your door!
Many communities and churches are hosting fall festivals on Halloween. They often have fun booths and games to enjoy, which help to take the focus off the candy!
Check out our

Ghoulishly Delicious Treats

Pinterest board for fun meals, snacks and treats. They're all braces-friendly recipes!
No Trick!
Setting a healthy Halloween habit now, will help not only help protect your child's braces, the habit will help them keep their teeth healthy long term! Your children may be more inclined to heed your warnings about the effects of sugar on teeth if they know about the continuous tug-of-war taking place inside their mouths. Colgate has a great article, What Are the Effects of Sugar on Teeth?
Helping them understand how teeth react to sugar can have a lasting impression, and you know, we want you all to have beautiful, healthy SmilesForever!
A Safe Halloween for Smiles and Trick or Treaters!
Keep your smiles and selves safe by always make sure to walk well-lit paths while out on Halloween to avoid trips and falls.
In the unfortunate event that a bracket or appliance becomes loose or broken, please call us so that we can evaluate how to help get you comfortable. Broken braces may also slow down expected treatment time if left too long. By making us aware that something needs attention, we can help keep your treatment progressing toward your perfect smile!
From all of us at SmilesForever, we wish you all a safe, healthy and fun Halloween!