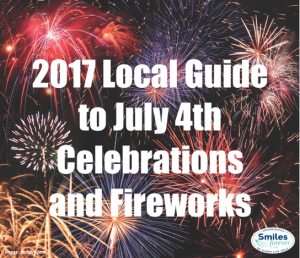 Still not sure where to celebrate and watch a great fireworks show tonight? The Gwinnett Daily Post has posted their fantastic local area guide to 4th of July fireworks and celebrations. SmilesForever Orthodontics is happy to share it with you here.
• Fantastic Fourth Celebration: Stone Mountain Park will host its annual Independence Day celebration throughout the weekend with the park open from 10 a.m. to 8 p.m., and the Lasershow and fireworks beginning at 9:30 p.m. Tickets can be purchased by visiting www.stonemountainpark.com/Events/Fantastic-Fourth-Celebration.
• Berkeley Lake July 4 Parade: The city will hold its annual parade, with residents who want to join in with decorated cars being invited to show up at 11 a.m. at Berkeley Lake Elementary School. The parade is expected to kick off at about 11:30 a.m., with state Rep. Scott Hilton, R-Peachtree Corners, and Mayor Lois Salter leading the way in an El Camino. Food and family-friendly activities, including face painting, will follow the parade at Berkeley Lake Chapel.
• Concert and fireworks: Lanier Islands will host a DJ from 3 to 7 p.m. at the Sunset Cove Stage, with a fireworks show on the lake set for 10 p.m.
• Star Spangled Snellville: The city's Independence Day celebration will last from 4 to 10 p.m. at the Towne Green, with a fireworks show beginning at 9:30 p.m.Activities will include inflatables, a water slide, train rides and bungee jumps. Food will be provided by several restaurants and vendors. Ms. Senior Georgia, Kriss Johnson, will lead the National Anthem, and the Button Gwinnett Chapter Militia will fire muskets. The Stephen Lee Band and the Contagious Band will perform as well.
• Braselton Festival, Parade and Fireworks: Downtown Braselton will host live music, children's activities, a parade and fireworks from 5 to 10 p.m. The live music featuring the Fly Betty Band will last from 5 to 9 p.m. on the Braselton Town Green. The parade will begin at 6 p.m., on Ga. Highway 53 and head through downtown. Tickets for the kids activities area include $2 for one time on each inflatable and $5 for each climb on the rock wall. Wristbands that offer unlimited climbs cost $10 for the inflatables, $8 for the rock wall and $15 for both. The fireworks will be shot off at City Hall.
• Star Spangled Fourth: The Mall of Georgia's 15th annual Fourth of July celebration will begin at 5 p.m., and include musical performances at The Village Amphitheatre, a kid's play area, fireworks and a showing of "The LEGO Batman Movie." The Woody's will begin performing at 5 p.m., and A1A The Official Jimmy Buffet Tribute Show will begin performing at 7:30 p.m. The fireworks will begin at 9:35 p.m., and the movie will begin afterwards.
• Sparkle in the Park: Lilburn's event will last from 5:30 to 10 p.m. at City Park, 76 Main St. Balloon artists, and free family photos will be on hand until 9:30 p.m., or as long as supplies last. Tickets for food trucks, vendors and bounce houses can also be purchased. The Breakfast club will begin performing at 7:30 p.m., and the fireworks will begin at 9:30 p.m. Shuttle buses will be available to take attendees to and from parking areas at City Hall, Lilburn Middle School and lots at the corners of Yong and Church Streets and Poplar Street and Killian Hill.
• Independence Day with the Gwinnett Braves: The Gwinnett Braves will give away American flag rally towels to the first 5,000 fans who show up at Coolray Field for the team's game against Norfolk, which will begin at 7:05 p.m.. Patriotic-themed jerseys will also be auctioned and the proceeds will go to Operation One Voice. There will also be a fireworks show after the game.
Whether you've decided to stay close to home with family and friends or head to a venue to watch a display of fireworks, Dr. Brad Gilbert, Dr. Adam Wells and our staff wish you a happy and safe 4th of July!