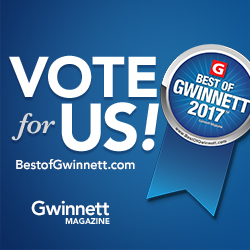 You can vote simply by clicking the button above!
We are sending out an enormous THANK YOU to all of our patients who have nominated SmilesForever Orthodontics for Best of Gwinnett 2017!
Your previous year's nominations and votes have placed us "Best" in the Best of Gwinnett County Orthodontic Practices category these past NINE years running! Our staff and orthodontists, Dr. Brad Gilbert, and Dr. Adam Wells take pride in the trust and confidence you continue to place in us to care for your families. Honestly, we don't take that lightly. Helping you to achieve beautiful, confident smiles is our utmost goal. That's why our SmilesForever doctors and staff continue to stay up-to-date on the latest and most beneficial orthodontic technologies each year.
It means the world to us that you have shown us just how much you truly appreciate our commitment to helping you achieve your BEST smiles, by nominating SmilesForever for BEST Orthodontic Practice in Gwinnett County, again this year!
We humbly ask you to cast your votes now for SmilesForever Orthodontics in the Orthodontic Practices category by clicking the button above and voting for us.