February 14th, 2021


At SmilesForever Orthodontics, we pride ourselves on providing patients in the Gwinnett area and surrounding communities with the absolute best in orthodontic care and services. Knowing our caring and specialized orthodontists and staff are doing our best to help improve the lives and oral health of our patients is extremely rewarding. Having our patients, associates and community actively showing their support through voting as a tangible acknowledgement is very appreciated too. That's why we are so proud to announce that we have been named "Best of Gwinnett" in the field of Orthodontic Practices for 2020 by Gwinnett Magazine!
Being voted Best Orthodontic Practice in the largest county in the state of Georgia is quite special to us. 40 years ago, Dr. Ron Parsons and SmilesForever Orthodontics opened our doors and became part of the Gwinnett community. This year, as we celebrate our 40th anniversary, we are proudly providing orthodontic excellence with four office locations. Dr. Gilbert and Dr. Wells, along with every one of our SmilesForever team are committed to helping create beautiful, confident smiles. We enthusiastically participate in extensive training and continuing education to treat our patients with the utmost skill, technology, care, and compassion. We simply love bringing smiles to Gwinnett!
What is the coveted "Best of Gwinnett" award?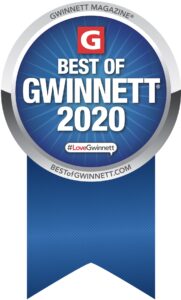 "Best of Gwinnett" is an annual poll created by Gwinnett Magazine. The goal of the poll is to acknowledge and award the Gwinnett area's best businesses in over 20 professional fields in a wide variety of categories. Nominees are submitted by people in the Gwinnett area in categories including Health and Medicine, Orthodontic Practices, Dental Health, Education, Food and Drink, and many more. The winners are determined by reader voting and the editorial staff at Gwinnett Magazine. Before winners are announced, the results are confirmed by the Better Business Bureau reports, ranking sites and voting pattern analysis reports to verify their legitimacy.
We are beyond honored and humbled!
This is the 12th consecutive year that we have been awarded and named "Best of Gwinnett", which makes this honor all the more special. From our board certified orthodontists, Dr. Brad Gilbert and Dr. Adam Wells, to our front desk to our team of specialized orthodontic assistants, everyone here at SmilesForever is so touched and genuinely grateful to receive this honor once again. With this in mind, we would like to take a moment to thank everyone who helped in making this possible, including the incredible patients we treat and the entire staff at Gwinnett Magazine. Our commitment to upkeep our rigorous standards and compassionate patient and community care strengthens with your trust and confidence into 2021 and beyond!