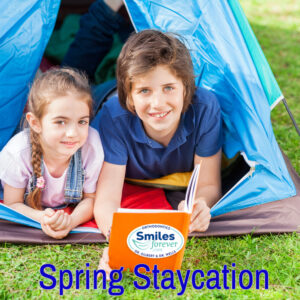 While this is not a typical year, spring break is already upon us and many families have had to look toward alternate spring vacation plans. If you're among those now planning a staycation, consider these alternative ideas from Dr. Brad Gilbert, Dr. Adam Wells and our SmilesForever staff to keep the family entertained safely.
Visiting Grammy and Granddad (Electronically, of course!)
Staying connected is so important when families can't be together and a staycation allows ample time for sharing exciting news! Visiting with Grammy and Granddad over spring break is something both children and grandparents really look forward to. While traveling outside the home isn't advised right now, video chats and phone calls certainly are!
Consider setting up an evening chat time throughout your staycation and the kids can share the fun they've been having or the adventures they'll take next!
Have favorite recipes the family shares? Each family can cook the same meal and share pictures of their masterpiece!
Let's Go Camping
Pitch a tent in the backyard and bring a sense of adventure. Make it as real as possible with traditional camping food like hot dogs or hamburgers and let's not forget the s'mores! This is a great time to connect, tell stories and stargaze.
If rain is on the horizon, pitch your tent in the living room! Turn out the lights and tell stories around your fireplace or make a campfire out of flashlights or lanterns. Can you say finger puppet shadows? They're the BEST!
Science Camp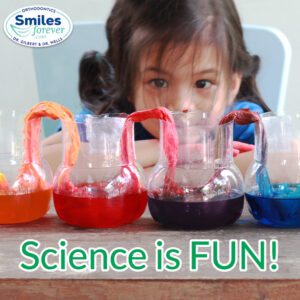 Original plans for a learning vacation can still be super fun at home! Simple outdoor scavenger hunts for a list of items to learn about are stimulating. On the list? Feathers, a maple leaf, butterfly, clouds, fruit…the list can be endless and offer a great learning opportunity on each item found!
Pinterest has loads of recipes for so many science projects like making bath bombs and gooey or glittery slime. A great FREE resource for at-home learning, including STEM crafts and everyday science experiments can be found online at Kiwico.com
Host a Family Film Festival
Popcorn and pillow time! Family vote for 2 movies will make it a double feature. This is a super fun way to cozy up with the whole family!
Feel up to a Film-fest challenge? Pair off and shoot some short videos and gather round to watch. You can even dress up & host your own Family Grammy's!
Take a Culinary Vacation
Plan a day exploring the cuisine of another culture. Choose a recipe online and the whole family can work together to create a tasty meal.
Take your culinary adventure even further! Pick a few different countries and enjoy cuisines from around the world each night of your staycation!
Artists' Retreat
Inspire creativity, gather craft items and art supplies and let your imagination run wild! Set up stations to keep organized while attempting different projects and a final station to display your finished works of art!
Google Arts & Culture offers online exhibits and virtual tours to some of the most well known museums and galleries around the world.
Picnic
Pack a delicious lunch or dinner and head out to the backyard for a sun drenched meal!
Raining or avoiding those pesky picnic ants? Don't miss out on a family favorite-throw an old sheet or shower curtain down on the family room floor and picnic indoors!
Spa-cation
What family member DOESN'T love to be pampered? Robes required! Set up stations for nails and hair. Mix up a replenishing face mask. This can be relaxing but we're betting this turns into tons of silly fun for the whole family, especially with Dad manning the "nail salon"!
Don't forget the pets! Your furry friends have been cooped up too and are longing for a shampoo and puppy or kitty massage!
All of us at SmilesForever Orthodontics are looking forward to hearing about your awesome and adventurous staycations! We know you'll find loads to keep you busy and we wish each of you a relaxing, fun spring break. Stay well and we'll see you soon!