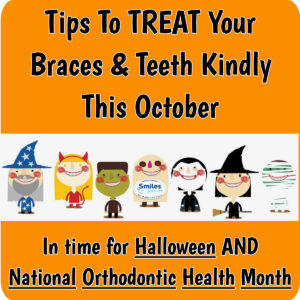 At SmilesForever Orthodontics we LOVE Halloween!! Did you also know that October is National Orthodontic Health Month? As Dr. Brad Gilbert and Dr. Adam Wells tell our patients - that's not just a coincidence!
Many of our patients and families are opting not to trick or treat door-to-door this Halloween but the candy bags in every store sure are tempting this time of year. Dr. Wells and Dr. Gilbert feel it's still very important to educate both our patients and their parents of the potential risks to braces and teeth with some of the "treat" choices out there. Each of our patients are given a list of foods to avoid while in orthodontic treatment and are encouraged to avoid these hard, crunchy, sticky and chewy items even once the braces have come off. Any food item that may harm braces and appliances may also pose that same risk to permanent teeth!
In addition to our "Foods to Avoid" list for patients, which can also be found on our webpage under the Life With Braces tab, our SmilesForever doctors and team have put together a braces-friendly Pinterest Board of Ghoulishly Delicious Treats recipes. We're teaming up with The American Association of Orthodontists (AAO) again this year to recommend FIVE TIMELY TIPS to protect braces and orthodontic appliances, while also protecting teeth from decay.
Avoid sticky foods
Brush up after eating to avoid cavities
Just say "BOO" to hard treats!
Spooktacular News - if your diet allows sugar, you can still indulge in soft chocolates, M&M's and Reeces Peanut Butter Cups WITHOUT NUTS, Muskateer Bars, etc.
Make a commitment to avoid hard, crunchy, sticky and chewy foods all year round to increase your rate of success for worry-free orthodontics and healthy teeth
Fun Ideas to Treat Your Neighborhood Children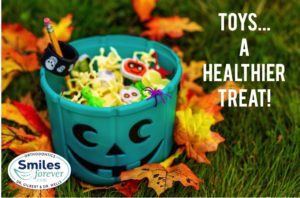 Know of any neighbors with braces? Consider handing out alternative treats instead of candy snacks this year. Bracelets, spooky rings, toy cars, coloring books, etc., make an awesome surprise! If your neighborhood opts out of door-to-door trick or treating this year, an option may be a surprise toy bag or ice cream gift card left at the front door for the recipients. We heard of one local subdivision that will be posting pictures of their children dressed in costume on their mailboxes for a fun drive-by Halloween night!
Remember to make good choices for your braces and teeth during and after treatment. We wish you all a safe, happy and HEALTHY Halloween!