Smiles - Sunshine - Summertime FUN!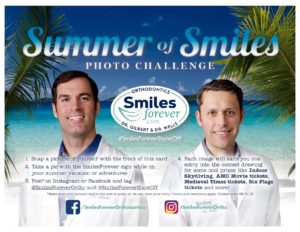 We are SO ready for summer. Like really ready. Early ready. SO ready we're starting our SmilesForever Orthodontics Summer Contest Photo Challenge TODAY!
At your next appointment be sure to pick up one of our Summer of Smiles signs to take your summer pictures with! Feel free to drop by for a sign before then if you'd like to better your chances in the drawing - each new picture posted earns you an entry!
Dr. Gilbert, Dr. Wells and our staff can't wait to see what fun and mischief our patients get up to this summer. Have fun smiling and GOOD LUCK!