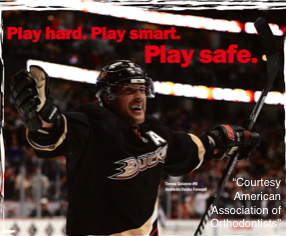 April, also known as National Facial Protection Month, is upon us, and for Dr. Brad Gilbert, Dr. Adam Wells and our team at SmilesForever Orthodontics, that means that it's once again time to remind our patients to protect their pearly whites and shining faces.
We may not get back to organized sports for a little while, but even most at-home sports require caution and proper protection. Backyard soccer, gymnastics or volleyball? Driveway basketball game or pitching practice? While choosing the proper gear for your child's sport, we'd like to remind our patient's about the importance of adding a mouthguard to your practice and game day uniforms.
Did you know that according to the National Youth Sports Safety Foundation, adults, high school athletes and children have more than 5,000,000 teeth knocked out in sporting events each year? That's an awful lot of visits from the Tooth Fairy! Our SmilesForever team would like to encourage our patients to wear a properly fitted mouthguard and other forms of facial protection while engaging in any sporting activity. By taking this simple precaution, children and adults alike will greatly reduce their chances of traumatic facial injuries.
Are mouth guards cool?
Pro athletes are required to wear facial protection, including mouthguards!
[caption id="attachment_1442" align="aligncenter" width="214"]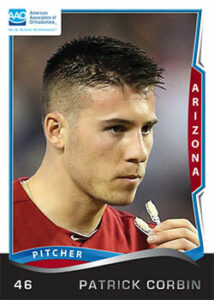 Photo courtesy of American Association of Orthodontists[/caption]
Patrick Corbin formerly of the Arizona Diamondbacks and now with the Washington Nationals team, has partnered with the American Association of Orthodontics to help bring awareness to the importance of wearing a mouthguard. In a recent interview with the AAO, Patrick was quoted,
"Wearing a mouth guard on the field is just as important as any other protective gear," says Corbin. "In baseball, a line drive can come at you when you least expect it, and it's crucial to be protected at all times."
The Best Type of Mouthguard? The One That's Worn!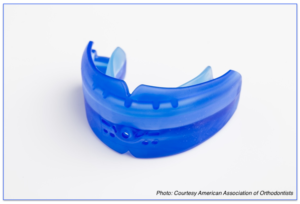 There are many different types of mouthguards available today. Boil to fit, with straps, without straps, blocks, dual, custom shaped, and the most important for our braces wearing patients - an orthodontic mouthguard!
Why An Orthodontic Mouthguard?
It's important that while in orthodontic treatment that our patients wear an orthodontic mouthguard. The mouthguard, while protecting the teeth and the insides of cheeks and lips from injury, should fit freely over the braces and appliances. With so much time spent at practice and during games and matches, our doctors like to stress the importance of choosing a mouthguard that will allow for the advancement of treatment and continued movement of teeth into their proper position.
Confused? Don't get overwhelmed when trying to choose the best one for your child, we have orthodontic mouthguards for purchase in each of our four offices and we're happy to help you choose the right mouthguard for your chosen sport!
Five Ways To Protect Your Child's Face And Mouth This Spring
Our doctors and team have put together five simple ways to protect your child's face and mouth this spring:
Make sure you or your child wears a mouthguard for contact sports such as baseball, softball, soccer, boxing and lacrosse
Remind him or her to wear a helmet
Protective eyewear is equally as important
Wearing a face shield to avoid scratched or bruised skin will help
Make sure your child is alert, even as a spectator
We hope these tips are helpful. Drs. Gilbert and Wells will tell you protective gear is vital for anyone engaging in contact sports or activities. If you have any further questions about any of these tips, please contact us at any of our four Metro Atlanta locations in Dacula, Duluth, Flowery Branch and Loganville.
SmilesForever Orthodontics wishes you a SAFE and fun spring season, now at home and when school and team sports resume!