April 22nd, 2019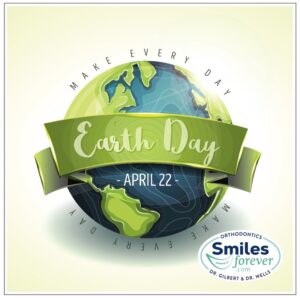 Earth Day is observed worldwide on April 22nd and with it brings an important reminder that our planet belongs to each and every one of us. It takes all of us equally doing our part to preserve it! As Earth Day rolls around each year, we're reminded of the importance of being environmentally friendly but you don't have to wait for Earth Day to start protecting the planet or look for big ways to make an impact. Every small step you take leads to a  more sustainable planet and SmilesForever Orthodontics strives to reduce our carbon footprint every day!
There are Clean Teeth and there are CLEAN Teeth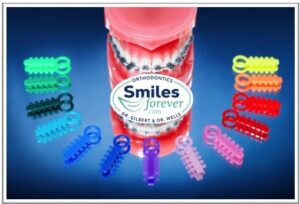 What's the difference? Brushing and flossing help prevent tooth decay and gum disease. Both are very important in maintaining good oral and dental health, in and out of braces. We can all make wiser choices regarding the products we use to maintain our sparkly teeth and healthy gums. The American Dental Association recommends replacing your toothbrush every three to four months. The standard toothbrush is made of a hard plastic handle and a set of soft nylon bristles which are bad for the environment. Most come in plastic packaging which greatly impacts our landfills.
While taking care of your oral hygiene you can make a difference in helping the environment by:
Going Natural: Choosing a toothbrush made from recycled and renewable materials.
Recycle your old toothbrushes. The Colgate Oral Care Recycling Program accepts old toothbrushes, used toothpaste tubes and dental floss containers as well. As these items are each made from multiple types of materials, they can't be processed by your city's regular recycling plant.
Turning off the water: You're diligently brushing, paying careful attention to technique and time - but wait! You're in the zone and zoning out - by leaving the water running? It's time to turn that water off while you brush!
What we're doing:
We strive to limit our SmilesForever Orthodontics carbon footprint by minimizing our paper usage and keeping digital records and charts for our patients.
Our insurance coordinators make every effort to handle claims for our patients, using secure and HIPAA compliant protocol.
Our patients can receive their appointment reminders through e-mail or text messages.
The toothbrushes at our brushing station are made from recycled products!
Our ligature ties (the cute colors holding the arch wire into the brackets) and our rubber bands are BPA free!
We minimize radiation for our patients by providing in-house digital cephalometric and panoramic x-rays.
Take a moment to consider how you can help save our beautiful planet. If you're concerned with making changes, rest assured that when it comes to your orthodontic treatment and care, Dr. Brad Gilbert, Dr. Adam Wells and our SmilesForever team are striving to make a difference with products carefully selected to ensure our practice complies with reducing our carbon footprint!