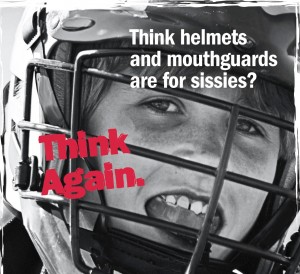 National Facial Protection Month focuses on spreading awareness about the importance of protecting children and adults from oral and facial injuries. Many injuries that do occur during sporting activities could have been prevented had the proper protective gear been worn.
As we return to outdoor sports and other activities, it's a great time to remind you about the importance of taking a few precautions to preserve your teeth and be protected from dental and facial injuries. Whether at a practice, at a game, or simply enjoying some fun in the neighborhood, it's important to play it safe.
To prevent dental and facial injuries, remember these four important tips:
Wear mouth guards to help prevent injuries to the teeth, mouth and jaws when you're practicing or playing team sports, or when skating or riding a bike.
Wear a helmet. Helmets absorb the energy of an impact.
Wear protective eye wear. Eyes are extremely vulnerable.
Be alert even as a spectator. Alert spectators can avoid foul baseballs and flying hockey pucks. Watch your step when climbing bleachers.
A single traumatic injury to the teeth may never heal completely, and it can create a lifetime of expensive problems.  Mouth guards are one of the least expensive pieces of protective gear available, and they can prevent or minimize dental and jaw injuries.
Game, Set, Match — SmilesForever Orthodontics has great news for athletes! You can still play sports even while undergoing orthodontic treatment!
If you do play sports Dr. Brad Gilbert and Dr. Adam Wells recommend that you wear a mouth guard to protect your teeth and your appliance. Not only do you want to protect your investment, you'll want to protect your mouth and teeth too! Whether wearing braces or an orthodontic appliance you will need to wear a special mouth guard that will allow your treatment to progress and not be held in place with a formed mouth guard.
In case of a sports emergency, be sure to immediately check your mouth and appliance for damage. If you notice any loose teeth or appliance damage, please contact our office right away. You can temporarily relieve the discomfort by applying wax or rinsing your mouth with warm saltwater.
April is the perfect time to get into the mouth guard habit.  Wear one at every practice and every game.
For more information about National Facial Protection Month visit ADA.org, and for questions regarding orthodontic mouth guards please contact our office.