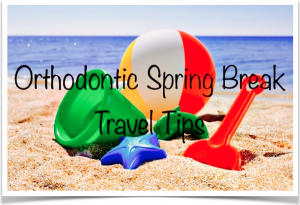 Have Spring Fever? For many of our patients, it's official - Spring Break is here! This is quite a popular time to take a vacation, often escaping our normal routines. Are you planning to hit the beach or take a road trip to visit grandparents?
If you're planning to do any traveling, Dr. Brad Gilbert and Dr. Adam Wells want to encourage you with some helpful tips to keep up with your orthodontic and dental hygiene routine. Whether you wear traditional braces, orthodontic appliances, Invisalign or retainers, you'll want to pack more than just your toothbrush!
Always take your previous set of aligners, your current set, and your next

set of aligners with you.

Always carry your aligners in your purse or carry-on luggage when flying.

Bring your toothbrush and toothpaste.

Only when brushing is inconvenient between meals, make sure you rinse out your mouth and aligners before reinserting into your mouth.
Toothbrush and paste

Floss and threaders

Orthodontic wax

Proxy brush

Rubber bands (if required)

Ibuprofen or Tylenol if you have had a recent adjustment
Have Gorgeous Straight Teeth? Congratulations - this means you've completed your orthodontic treatment, are in orthodontic retention and wearing retainers!
Removable Retainers:
Most important - remember to bring your retainers!

Retainer case

Toothbrush and paste
Bonded Retainers:
Toothbrush and paste

Floss and threaders
We hope these tips help you with your packing while making your Spring Break plans. If you have any questions or concerns while you are traveling please give SmilesForever Orthodontics a call. Wishing you all safe travels and wish you a Spring Break to smile about!