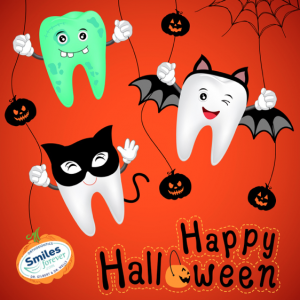 Spooktacular News for our orthodontic patients! If you enjoy a treat or two on Halloween there are treats and candies that are safe to eat with braces. We even have a Pinterest board for our patients if you need some ideas here Ghoulishly Delicious Treats
At SmilesForever Orthoodntics we love Halloween!! Did you know that October is National Orthodontic Health Month? We don't think that's just a coincidence. Dr. Brad Gilbert and Dr. Adam Wells feel it's important to educate our patients and parents of the potential problems that might happen if patients celebrate Halloween without following our foods to avoid list.
Our orthodontists, along with The American Association of Orthodontics (AAO) are recommending FIVE TIMELY TIPS to protect braces, and orthodontic appliances while also protecting teeth from decay.
Say "Boo" to hard treats
Avoid Sticky foods
Brush up to avoid cavities
Spooktacular News – you can eat soft chocolates, peanut butter cups, M&M's without nuts, Muskateer Bars, etc
Make a commitment to avoid hard and chewy food all year round to increase your rate of success
Remember to make good choices for your braces and your teeth while in treatment. We wish you all a happy & safe Halloween!