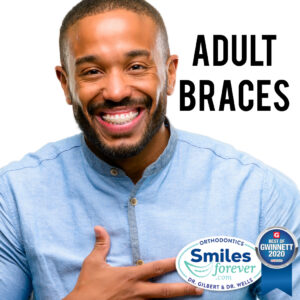 Almost one third of our SmilesForever Orthodontics patients are adults. In fact tooth alignment can be achieved at any age! A bad bite and crooked teeth often contribute to tooth decay, gum and bone loss, headaches, abnormal wear of tooth enamel and jaw joint (TMJ/TMD) pain. A great smile can dramatically improve your self esteem and personal appearance, not to mention studies clearly show that healthy gums and aligned teeth have a positive effect on your health, and your heart in particular.
Dr. Brad Gilbert and Dr. Adam Wells are highly skilled in using new techniques which greatly increase comfort levels, while decreasing the frequency of visits and often shortening overall treatment time. New technology also provides discerning adults today with several lower profile treatment options, that may include clear braces with tooth color arch wires, mini metal braces and Invisalign. Drs. Gilbert and Wells specialize in blending treatment goals with outstanding results, and in many cases, work closely with your general dentist or other specialists to ensure that all treatment objectives are met.
Are you ready to discuss your options for a healthy, beautiful smile? We're happy to help schedule your complimentary orthodontic evaluation with Dr. Gilbert and Dr. Wells at any of our four convenient locations in Dacula, Duluth, Flowery Branch and Loganville, GA. Give us a call today at (770) 963-3963 or simply click on the provided link to request your free appointment. We can't wait to greet your smile!