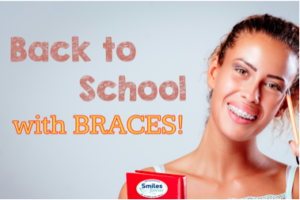 The summer went by so fast and we're already into a brand new school year! Getting prepared for a new year at school is exciting for kids (and parents) but, for students who may have recently gotten braces or appliances over the summer, it may feel a little stressful.
Adding changes in routine for brushing, flossing and braces-friendly foods may feel a little overwhelming in the first few days or weeks at school. Here at SmilesForever Orthodontics, we do our best to make every patient's orthodontic experience as rewarding as possible. If you have a child who is just getting back to school with braces, here are a handful of tips we've put together to help make the transition smooth and stress-free!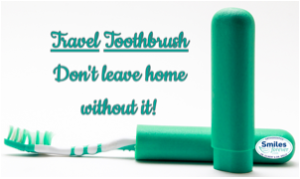 Keep a braces kit in your purse, book bag or locker!
Wax - is great for poking wires and to ease braces and appliances over tender areas in the mouth.
Floss - proxy brushes get under the wire if food gets stuck.
A toothbrush!
Retainer Case - If you have a removable retainer or appliance, Keep that retainer case handy to store your removable retain or appliance while you eat! Remember to NEVER wrap a retainer in a napkin or store in a pocket as they are clear and hard to miss when cleaning up or washing.
Elastics - You'll need to replace your rubber bands after you eat. They will need to be replaced after sports too.
Mouth Guard - Playing sports this school year? Remember your orthodontic mouth guard. Tip: Keep your mouth guard in your sports bag so that you will always know where it is!
Allow a little extra time in the mornings so that brushing and flossing around braces doesn't make you late for the bus!
Colors. Pick a favorite color at your next braces adjustment to coordinate morning outfit choices. Need some color inspiration? Colgate has a fantastic blog article on choosing the best braces colors. Colgate Perfect Shade for Braces

Visit our Braces Friendly Pinterest Board for easy make-ahead lunch ideas. Soft foods can be especially helpful when new to braces and after adjustments. SmilesForever Braces-Friendly Lunches

Take an unopened bottle of Ibuprofen or Tylenol, along with a doctor's note to the school nurse. The nursing staff will happily keep the over-the-counter medication on hand for the school year, just in case there is discomfort after an adjustment.
Dr. Brad Gilbert and Dr. Adam Wells know that it can typically take a few days to adjust to new braces and appliances, where the teeth may feel a little sensitive. Some patients may experience a little tenderness after an adjustment too. Our SmilesForever team and doctors want you to have the best school year - WITH BRACES! Remember to keep to the, "Nothing hard, crunchy, sticky or chewy", rule and you'll be off to a great start!