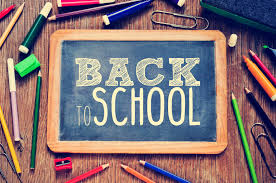 Summer is coming to an end which means most of our young patients are already back to school. We at SmilesForever Orthodontics put together a few helpful tips to ease you back into the school routine.
Bring a Travel Kit
You'll want to keep a travel toothbrush with you as it's important to brush after meals. Keep floss and floss threaders in your kit to help remove any stubborn food items. Keep your travel kit handy in your backpack, purse or school locker.
Pack Braces-Friendly Meals
At lunchtime eat soft, healthy foods and remember to stay away from any food items that are hard, crunchy, sticky or chewy. Stick to water and avoid the sport drinks and soft drinks.
Keep Your Wax Handy!
You may want to keep extra wax in case your braces or appliances rub against areas in your mouth causing discomfort. If this happens to you, apply your dental wax to the parts of your braces that are irritating you.
Wear an Orthodontic Mouthguard
If you plan to play sports, it's very important to wear an orthodontic mouthguard, which will prevent damage to your teeth and braces. Mouthguard's aren't only recommended for contact sports like football, lacrosse and wrestling, but also any sport with the potential for contact such as volleyball, baseball and basketball.
Remember Elastics
Pick up enough elastics for both school and home! Rubber bands align your bite, so not wearing them could make your treatment time longer.
Bring Advil Along With Parental Consent to Your School Nurse
Though Drs. Brad Gilbert, Adam Wells and our clinical assistants treat all of our patients with the utmost care, the actual movement of teeth after an adjustment may cause discomfort. If you have just had a new wire placed, or been prescribed elastics to help align your teeth, you may experience a little discomfort for a day or two. Not all patients are sensitive to minor adjustments but if you are, we certainly don't want you to be uncomfortable! By planning ahead and taking an unopened bottle of Advil or Tylenol to your school nurse along with parental consent, you'll be a step ahead of any potential discomfort.
Don't forget to smile!
Show off your beautiful smile to your friends and family an let your confidence shine through!